House Republicans repeal Obamacare again. Why do they keep doing it?
House Republicans repealed Obamacare for the fourth time Thursday, and like their other efforts, it will go nowhere in the Senate. Yet for the party's base, it's hardly a pointless vote.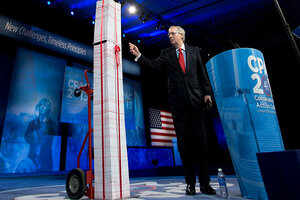 Manuel Balce Ceneta/AP/File
House Republicans booked yet another chapter of their drive to repeal President Obama's signature health-care law on Thursday night, ramming their fourth complete repeal and 37th elimination of some portion of the law through the chamber on a 229-to-195 vote.
Two Democrats joined Republicans in voting for a measure that represents a cornerstone of the Republican attack on Mr. Obama and congressional Democrats in the election cycle to come.
While the scandals currently roiling Washington – from the IRS's overreach to the Department of Justice's seizing of Associated Press phone records to a lack of clarity over the Obama administration's response to the terror attacks in Benghazi, Libya – don't seem to have a common theme, Republicans see a unifying thread: government overreach.
Republicans argue, in effect, this is what happens when you put your faith in big government. And at the bedrock of that critique, the purest form of this governmental overreach in the minds of many conservatives, is Obama's signature health-care law.
Sen. Marco Rubio (R) of Florida put it just so on the Senate floor on Wednesday.
"This same IRS [who targeted conservative groups for more scrutiny] will now have unfettered power to come after every American and ensure that either you're buying insurance or you're paying them a tax. Every American business. The front lines of enforcing Obamacare falls to the IRS. That is what happens when you expand the scope and power of government," Senator Rubio said.
"It's always sold as a noble concept. It's always offered up by government as, 'We're going to give the government more power so they can do good things for us.' But the history of mankind proves that every time a government gets too much power, it almost always ends up using it in destructive ways against the personal liberties of individuals," he continued.
The health-care law is such a fundamental piece of the Republican political playbook because it has enormous implications for the lives of ordinary Americans – and thus weighty political implications.
---