Verizon phone-snooping flap: why Obama won't be harmed
News that Verizon has been forced to turn over millions of phone records to the US government feeds the narrative of Big Brother-ism in Washington. But concerns over national security are likely to mitigate political fallout.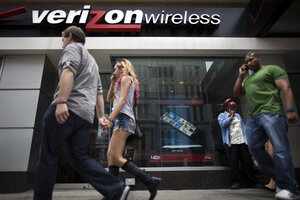 John Minchillo/AP
At first blush, the news report about the US government tracking data from Verizon about millions of phone calls, in the name of protecting national security, looks to be potentially explosive and politically damaging.
After all, it fits the narrative of Big Government run amok, fueled lately by revelations that the Justice Department has been accessing reporters' phone records and the Internal Revenue Service has been subjecting tea party groups to extra scrutiny.
But since Wednesday night, when the British newspaper The Guardian posted the story, the flood of reactions from political players demonstrates both bipartisan support for and bipartisan opposition to the classified program. Instead, the split in opinion is centered more on where to draw the line between defending national security and protecting civil liberties.
Even though plenty of liberals are unhappy with the Obama administration over this and other actions taken in the name of national security (see drone strikes abroad), they are hardly ready to abandon him. And across the political landscape, the continuing threat of terrorism is likely to mitigate any damage to the president's job approval.
On Thursday, a key Republican came to the government's defense over the "phone snooping" story. Rep. Mike Rogers (R) of Michigan, chairman of the House Intelligence Committee, told reporters that the National Security Agency (NSA) program was instrumental recently in preventing a "significant" terrorism attack.
---