US immigration reform: Why 'E-Verify' screenings, while flawed, will pass
E-Verify screenings of new workers, in use in some states, has the strongest public support of all the basic elements of immigration reform. It's included in the bill the Senate began debating Friday.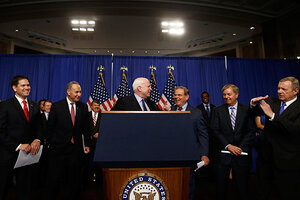 Charles Dharapak/AP/File
At the heart of immigration reform proposals in Congress is an idea that's simple in concept but very difficult in practice: keep illegal workers from getting US jobs by conducting checkups on all the new hires at employers across America.
This idea of new-hire verification is highly popular. With 85 percent support from the US public, it is the most strongly supported of five basic elements of immigration reform, according to a February Gallup poll.
But the system, known as "E-Verify," has shown plenty of flaws as well as promise in its early years of being available (but not widely required).
The problems: Many illegal immigrants slip through the cracks and win employment, while many legal workers face significant bureaucratic challenges – sometimes even losing their jobs because government databases deliver an erroneous "nonconfirmation" of their status.
Is E-Verify ready for prime time?
The short answer may be that, ready or not, here it comes. If a comprehensive immigration law passes Congress this year, many policy analysts say, it will include a provision to take E-Verify nationwide for all employers. On Friday the Senate began debating a comprehensive reform package, including the measure, formulated by the bipartisan "Gang of Eight."
To perfect E-Verify, the task ahead will be to keep improving and de-bugging the system, even as its use expands from about 7 percent of employers to all of them.
"Conservatives … have been pushing for a very, very long time" to implement E-Verify, says Philip Wolgin, an immigration policy expert at the liberal Center for American Progress. "Most people on the Democratic side, even if they aren't thrilled with it, understand that this is a necessary part of reform."
---