Sarah Palin returns to Fox: What did she say?
Sarah Palin goes lite on whistleblower Edward Snowden – 'nothing will ever be the same for this man' – and calls for 'more revelations' about what a 'big, overgrown government' is doing.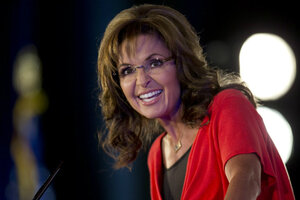 Carolyn Kaster/AP
Sarah Palin is back on "Fox and Friends" Monday morning. The appearance marks her return as a paid contributor to Fox after a multimonth hiatus that began when her old $1 million-per-annum contract with the network expired.
So did she say anything liberals will find outrageous and tea party members will love?
Well, we'd judge that she was pretty restrained during her chat-up for the F and F team. Her best line came at the start, when they showed a clip of her speech from over the weekend at the Faith and Freedom Coalition annual conference in Washington, D.C.
Congress should "put themselves on Ted Cruz control for a week," said Ms. Palin in the clip.
(Sen. Ted (R) Cruz of Texas was a phone-in guest, which was the way they played that bit, and not her comment that the US should "let Allah sort it out" in Syria, instead of ramping up military aid to Syrian rebels.)
After that, Palin talked a bit about her upcoming Christmas book, which she described as a legal primer to "pushing back on the politically correct who would try to take the Christ out of Christmas," but also a "festive and jolly" book with recipes.
---