In the end, NSA might not need to snoop so secretly
NSA data-collection programs have spawned support and criticism. But in an era when many Americans already know their personal information is being gathered, perhaps being more open about it would help, some say.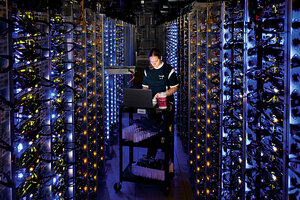 Connie Zhou/Google/AP/File
The headquarters of the National Security Agency is a campus of cubelike buildings set in giant parking lots at Fort Meade, Md., about 25 miles northeast of Washington. The complex inhales so many employees every morning that it has its own exit off the Baltimore-Washington Parkway. Curious commuters can't drive up that ramp for a look around, though – it's closed to the public and guarded by security vehicles parked along the road. Access is restricted to those with proper clearance.
That's true for pretty much everything associated with the NSA, of course. The electronic espionage agency can be so secretive it makes the CIA seem as talkative as CBS News.
But now the NSA is facing unaccustomed and uncomfortable public scrutiny. Earlier this month, self-described whistle-blower and former NSA contractor Edward Snowden leaked details of agency programs that collect the phone records of millions of Americans and may scoop up a significant amount of their Internet records as well in a bid to track terrorist activity. That has set off a fierce debate about the interplay between national security and privacy in the Digital Age.
Should Americans worry about what's going on behind the exit marked "NSA Only"? After all, many Americans believe the US government is right to make the prevention of more terrorist attacks one of its highest priorities. The programs in question are carried out within a legal framework, according to the Obama administration. Relevant committees in Congress have been fully informed.
Others say these NSA activities are an invasion of privacy whose extent the public doesn't know, because they remain secret. And the amount of information produced by citizens' smart phones and social media is so vast, and analysis now so sophisticated, that "data mining" may raise wholly new privacy concerns.
---