Is NSA exaggerating its surveillance successes?
Critics of NSA data-mining and Internet surveillance programs discount Tuesday's report that such efforts foiled 50 terrorist attacks – 10 of them in the US. Here's why they remain skeptics.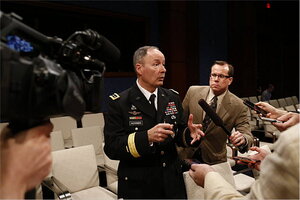 Charles Dharapak / AP
Has the National Security Agency exaggerated the importance of some of its sweeping surveillance programs? That's what agency critics are charging after top US security officials defended recently disclosed NSA activities at an extraordinary House Intelligence Committee hearing on Tuesday.
NSA collection of US phone metadata and snooping on the Internet traffic of foreign terrorism suspects has helped prevent 50 terrorist attacks in 20 countries, NSA Director Keith Alexander told largely sympathetic Intelligence Committee lawmakers.
Ten of the thwarted incidents were "homeland-based threats," said General Alexander. These included a nascent attempt to bomb the New York Stock Exchange and a plot to set off backpack bombs on the New York City subway, according to NSA officials.
Given the possible intrusiveness of the NSA programs in question, that is not much in the way of a track record of success, claimed national security blogger Marcy Wheeler in response to these revelations.
---