Obama nuke proposals: Status quo, or too risky?
Obama's offer to Russia to jointly cut deployed strategic nukes was just part of a broader, and more cautious, nuclear weapons strategy announced by the White House.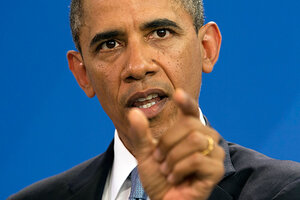 Evan Vucci/AP
In his big Berlin speech on Wednesday President Obama proposed cutting US deployed strategic nuclear weapons by one-third if Russia agrees to similar reductions. The move met with approval from many arms control experts, who feel the world would be a bit safer if the two nations' nuclear arsenals get smaller.
But Mr. Obama's offer was only part of the US nuclear news of the day. The proposed cuts were part of new nuclear weapons "employment strategy" also announced by the White House Wednesday. In some ways that guidance may represent a more cautious, conservative approach to US policy than Obama's bid for reductions would indicate.
"From a nuclear arms control perspective, the new guidance is a mixed bag," writes Federation of American Scientists nuclear expert Hans M. Kristensen.
The White House says the new policies are meant to align US nuclear activities with the 21st century security environment.
---