Big immigration reform bill, big boost to US economy? Meh.
Analysis indicates that the Senate's big immigration reform bill, approved Thursday, would have more positive effects than negative – over time. But for the first few years, unemployment would rise and wages would fall, especially in low-skill jobs.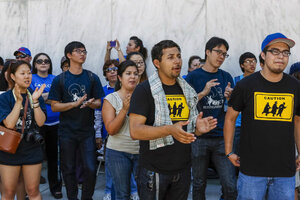 Damian Dovarganes/AP
An immigration reform plan just passed by the US Senate would affect the US economy in complex but largely positive ways.
That's the view of many mainstream economists, including Congress's own nonpartisan financial forecasters.
The economy would become healthier in part because fewer people would be illegal immigrants working in the shadows, and because the bill would boost the number of high-skill immigrants who are often job creators.
Of course, the economic forecasts don't settle the deep partisan debates over the reform legislation. Critics of comprehensive reform worry that the legislation puts "amnesty" ahead of law and order, and ends up luring fresh hordes of illegal immigrants. The nonpartisan Congressional Budget Office estimates that the Senate bill will reduce illegal immigration by only 25 percent.
And, even if you judge solely on the economic projections, the picture isn't wholly positive.
For example, for its first few years reform would push unemployment a bit higher and average wages a bit lower, according to CBO estimates this month.
The basic elements of the Senate's comprehensive reform legislation, passed Thursday, are:
Significantly tighter border security, including doubling the number of agents patrolling the southern border.
Stricter enforcement against employment of illegal workers, through an E-Verify program that checks new hires, plus antifraud measures.
Granting legal status to many of some 11 million unauthorized immigrants, who meet certain requirements, along with a path to citizenship.
Expanded immigrant visa programs, and expanded programs for nonimmigrant visas including for H-1B (high-skilled) workers and for agricultural guest workers.
---