FBI nominee James Comey: Did he ace confirmation hearing?
James Comey, a Republican who served under George W. Bush, told the senators he considered waterboarding torture. The FBI nominee sailed through his confirmation hearing with bipartisan support.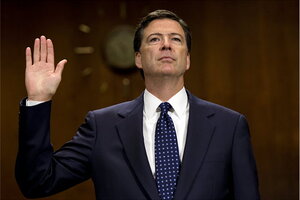 Evan Vucci/AP
James Comey is no Chuck Hagel.
It's true that both men are Republicans who are – or, in Comey's case, soon will be – serving in high Obama administration posts.
But ex-Senator Hagel struggled through his Senate confirmation hearing to be secretary of Defense earlier this year, appearing ill-prepared to answer tough questions he must have known were coming. In contrast, Mr. Comey, Obama's pick to be the next director of the FBI, sailed through his Senate hearing test Tuesday like an America's Cup yacht with following winds.
It was clear from the start that Comey's day would be relatively easy. Sen. Pat Leahy (D) of Vermont, the Judiciary Committtee chairman, has long pushed for the harsh interrogation practice known as waterboarding to be considered torture. Comey, as an official in the George W. Bush administration, objected strongly to the practice.
So Senator Leahy started off with the question on which he knew he and Comey would agree: Is waterboarding torture?
"Yes," said Comey, flatly.
"Would you agree to answer this question the same way no matter who was president?" Leahy continued.
"Oh certainly," said Comey.
Following that, other senators of both parties praised Comey's independence, referring several times to his role in facing down the Bush White House over a warrantless surveillance program.
Comey, meanwhile, agreed in principle with many senators on particular questions, while avoiding committing himself to policy details.
---