Janet Napolitano replacement list grows for Homeland Security
Janet Napolitano is stepping down as head of the Department of Homeland Security. Republicans promise a 'spirited debate' over the controversial department and Napolitano's replacement.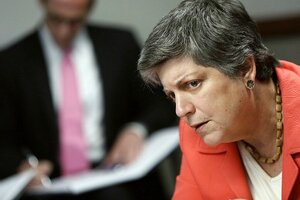 Jonathan Ernst/REUTERS
The hunt is on for a new head of one of the largest – and most controversial – parts of the federal government, the one that oversees immigration, natural disaster response, and terrorism in a post-9/11 world.
Janet Napolitano is leaving as head of the Department of Homeland Security (DHS) to assume the presidency of the University of California system of higher education – the top tier of the state's system of public colleges and universities with 10 campuses (including UC Berkeley and UCLA), more than 220,000 students, more than 170,000 faculty and staff, and a budget of about $24 billion.
In a way, it's a move to a smaller institution.
DHS is even more massive: It's the third-largest federal department, with a budget of $48 billion, a staff of 240,000, and 22 agencies under its bureaucratic budget, including the Federal Emergency Management Agency (FEMA), the Transportation Security Administration (TSA), US Customs and Border Protection, US Citizenship and Immigration Services, US Immigration and Customs Enforcement, the US Coast Guard, the Secret Service, and cybersecurity operations.
---