'Stand your ground' laws rattle US politics, society
The George Zimmerman murder case in Florida focused attention on the state's controversial 'stand-your-ground' law. Critics want to repeal such laws, but that seems unlikely. At least 22 states have 'stand-your-ground' laws.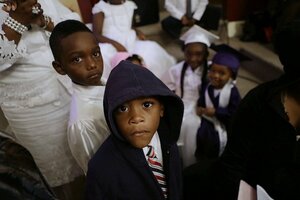 Gerald Herbert/AP
Florida's controversial "stand your ground" law was the specter hanging over the trial of George Zimmerman, the neighborhood watch volunteer who shot and killed unarmed black teenager Trayvon Martin.
Mr. Zimmerman's legal team did not use "stand your ground" as part of its successful defense against murder and manslaughter charges. But the judge cited the law, chapter and verse, in her instructions to the six-woman jury that set Zimmerman free.
Now, "stand your ground" is the focus of political and public debate – featuring elements of gun control, race relations, and criminal justice – over how to act in ways that prevent such deadly violence.
More than 100 cities and towns across the country held "Justice for Trayvon" rallies Saturday at which "stand your ground" was a featured issue.
"We are trying to change laws so that this never, ever happens again," civil rights activist and MSNBC host Al Sharpton told the crowd in New York.
Speaking earlier in the week to a NAACP convention in Orlando, US Attorney General Eric Holder said, "It's time to question laws that senselessly expand the concept of self-defense and sow dangerous conflict in our neighborhoods," an obvious reference to "stand your ground" laws.
In his unusual comments on race to reporters in the White House press room Friday, President Obama was more explicit.
---