Edward Snowden leaks again: five takeaways from the 'black budget'
The latest Edward Snowden leak reveals that the CIA claims the lion's share of the $52.6 billion classified 'black budget' that the US spent on its intelligence agencies in 2013, topping the NSA.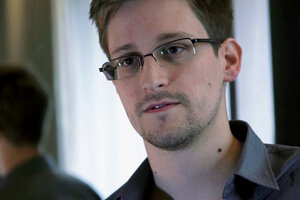 The Guardian/AP/File
Edward Snowden has struck again, this time via The Washington Post. The former National Security Agency data professional leaked a secret-filled 178-page summary of the US intelligence community budget to Post reporters Barton Gellman and Greg Miller, who published online a lengthy story about the document, illustrated with great charts and graphics, on Thursday.
The bottom line, or rather the budget top line, is that all US intelligence agencies combined spent $52.6 billion in fiscal year 2013. That's about 2.4 percent less than they spent in FY 2012.
That's not classified, strictly speaking: The US has released its overall intelligence budget since 2007, as Messrs. Gellman and Miller note. But breakdowns as to which agency gets how much and what the money is spent on have been classified, and the Post reveals those things, too.
Here's our quick take on significant things in the story:
The CIA is still first among equals. The nation's human-oriented intelligence agency got $14.7 billion for 2013. The eavesdropping NSA, despite its need for expensive electronics, got less: $10.8 billion. The National Reconnaissance Office, which builds and maintains signal and photo intelligence satellites, received almost as much as the NSA, at $10.3 billion. That means those secret eyes and ears in the sky are really, really expensive.
Predicting the future: priceless. OK, maybe "priceless" isn't quite the right word. There is a price tag here, a big one. The biggest single item in the breakdown of the budget by mission objective is "Provide Strategic Intelligence and Warning," which gets 39 percent of intelligence community's $52 billion. That means they are putting a lot of effort into the predictions that go into the president's morning security briefings.
---