Russia's new Syria plan could turn 'quagmire into an easy win'
Russia has seized on an offhand comment by US Secretary of State John Kerry and is proposing a plan to destroy Syria's chemical weapons. Syria is onboard, but the US is skeptical.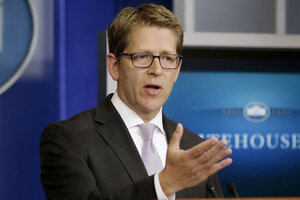 Pablo Martinez Monsivais/AP
In a surprising turnabout on Monday, Syria welcomed a Russian plan to turn its chemical weapons over to the international community for destruction. The US said it would take a hard look at the idea, first floated by Secretary of State John Kerry in an offhand comment.
The swift moves raised the possibility that the Syria crisis could be resolved via diplomacy. But the international situation was fluid and it remained possible the nascent plan could fall apart.
The US would look at the proposal with "serious skepticism," said State Department spokeswoman Marie Harf, because Syria had consistently refused to destroy its chemical weapons in the past.
But if the idea comes together it might allow the US to claim a more thorough destruction of Syria's weapons of mass destruction than would be otherwise possible. It would also lessen the stakes for upcoming congressional votes on whether to authorize a Syria attack. Syria, for its part, might avoid any chance of President Obama ordering a strike on Syrian infrastructure with US ordnance.
"If this offer is actually on the table, the US should take it – turns a quagmire into an easy win," tweeted Daniel Drezner, a professor of international politics at the Fletcher School of Law and Diplomacy at Tufts University.
---