Wendy Davis for Texas governor: why she has a chance
Wendy Davis, who shot to fame with a June filibuster defending abortion rights, announced her campaign to replace retiring Texas Governor Perry. That the seat is open helps an otherwise longshot bid.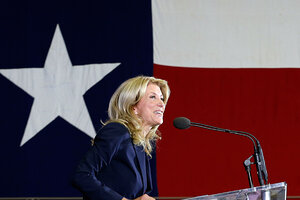 LM Otero/AP
It's official. Wendy Davis is running for governor of Texas. The state senator who shot to fame in June by staging an 11-hour filibuster to defend abortion rights announced Thursday that she will run for the Democratic nomination in 2014.
By all rights, Senator Davis's campaign is a long shot. Texas is solid red and has not elected a Democrat statewide since 1994. It last elected a Democratic governor in 1990, the late Ann Richards. As of July, Davis's likely Republican opponent, state Attorney General Greg Abbott, had raised $22 million; Davis had about $1 million. Mr. Abbott's big money lead will allow him to define Davis early as he embarks on his fifth statewide race.
In her announcement speech, Davis portrayed herself as a uniter who will work across party lines to "get things done" to improve public education, health care, and economic development.
"Texans don't want to sit back and watch Austin turn into Washington, D.C.," Davis said, speaking in her hometown of Haltom City, Texas, according to The Associated Press.
Davis, a two-term state senator and former member of the Fort Worth City Council, is a novice as a statewide candidate. And we're not talking just any state. This is Texas, once an independent, sovereign nation (a status some Texans would like to recapture). Those are big cowboy boots to fill, being governor of the Lone Star State.
---