McConnell vows no more government shutdowns. Does tea party agree? (+video)
Senate minority leader Mitch McConnell said Sunday that government shutdowns were a bad idea not consistent with conservative ideals. But it's unclear whether other Republicans agree.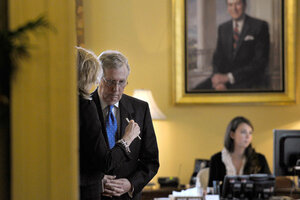 Susan Walsh/AP
Senate minority leader Mitch McConnell (R) of Kentucky said Sunday on CBS's "Face the Nation": "There will not be another government shutdown. You can count on that."
It is an impressive statement, coming from the top Senate Republican. As the man who has finagled the Republicans out of two debt-ceiling crises, too, his voice carries no small weight.
Then again, it does bear noting: He never wanted this one, either.
And that probably means one of two things:
1. His statement is just political bluster designed to assuage a nation that, polls say, are angry at Republicans for a government shutdown that accomplished effectively nothing.
2. He is actually going to try to get tough on tea party Republicans.
If the answer is No. 1, well, we've seen this show before. But if the answer is No. 2, who knows what will happen next.
The government shutdown, in fact, looks a lot like No. 1. No establishment Republicans thought it was a good idea, and for all the complaining they've done about President Obama taking a "victory lap" post-crisis, many Senate Republicans are taking victory laps of their own, telling the tea parties how stupid this all was.
Yet what could they do to stop it? Admittedly, Senate Republican firebrands like Mike Lee of Utah and Rand Paul of Kentucky were marginalized, but Ted Cruz of Texas got more screen time than Kim Kardashian.The word "Cruzsade" was coined. Seriously.
And how about the conservatives in the House?
Like Senator McConnell, House Speaker John Boehner of Ohio didn't want a government shutdown. In fact, he pleaded with his colleagues not to do it. But they went ahead and did it anyway.
This accession to his caucus, of course, is in Mr. Boehner's political DNA. He is a legislator's legislator. Let the process work. Let the members speak. Let the House work its will. But what if he all of a sudden decided to go all Tom DeLay on us and started cracking skulls? What if he said, "enough is enough, there will not be another government shutdown"? And meant it.
---