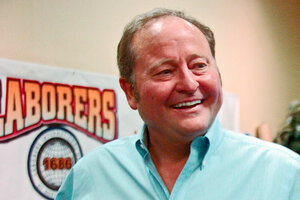 Matthew Brown/AP/File
7.

Brian Schweitzer

Brian Schweitzer, the populist former two-term governor of Montana, disappointed Democrats when he opted not to run for the seat of retiring Democratic Sen. Max Baucus. People assumed he also wouldn't run for president.

Then Schweitzer began openly floating the idea. Once a regular on MSNBC, he would boast about his qualifications: his budget surpluses as governor, his tax cuts, his investments in education. "If a Democrat is good with money, you can't beat him," he said in early 2014.

Then came a fateful profile in National Journal published in June. Schweitzer told the reporter he thought Southern men, like Rep. Eric Cantor (R) of Virginia, seemed gay – he's not – and used sexually suggestive language to describe the relationship between Sen. Dianne Feinstein (D) of California and the intelligence community. Suddenly, Schweitzer was nowhere to be seen, though he remains on the MSNBC payroll.

Schweitzer 2016 may have ended before it began.