Which president was the best football player?
(Read article summary)
Five modern US chief executives played football in college. Which president ranks as the greatest football player?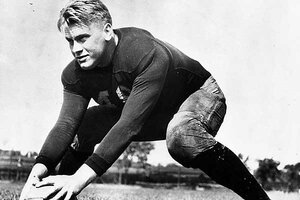 Gerald R. Ford Library/AP/File
Here's a trivia question that's sure to enliven your NFL playoff-watching party: Which US president was best at football?
OK, OK, maybe in most of the country this will elicit dead silence, followed by a discussion about how to keep guacamole from turning brown.
But in the Washington area, it's sure to produce lively debate. Remember, football is the American sport most like politics, metaphorically speaking. Both are incremental, linear, and focused on process.
So the scoreboard breaks down like this: Five modern US chief executives played football at the college level. Of these, three can be quickly dismissed.
John Kennedy went out for the freshman team at Harvard, but at about 140 pounds he was too light to play much. One teammate remarked that JFK was so thin you could count his ribs.
Richard Nixon was a reserve tackle for Whittier College in California, though he wasn't much heavier than JFK. Should we be surprised that he developed a reputation for being so eager on plays that he often jumped offside?
Ronald Reagan portrayed football great Knute Rockne in the movies. Before that, at Eureka College in Illinois, he was a decent lineman – but somewhat slow and far from great.
---