Did the CIA follow its own rules on double agents?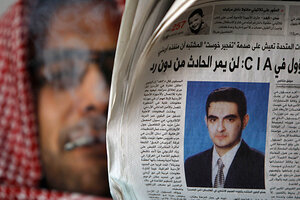 Ali Jarekji/Reuters/File
How do you run a double agent?
This question probably does not arise in your work, day to day. Most people aren't intelligence operatives. Maybe you've recruited an underling from accounting to tell you next quarter's numbers in advance, but that's not international espionage. John le Carré never wrote "The Human Resources Director Who Came In from the Cold."
A real double agent is someone who spies for two intelligence services but whose ultimate loyalty lies with one – unbeknownst to the other. By definition, they are devious, and handling one is among an agent's most demanding and complex tasks.
"Directing even one double agent is a time-consuming and tricky undertaking that should be attempted only by a service having both competence and sophistication," says a declassified CIA essay titled "Observations on the Double Agent."
This subject has been in the news after the tragic incident at a CIA base in Afghanistan Dec. 30, in which seven US personnel were among those killed by a suicide bomber whom the CIA allegedly was recruiting to be a double agent. When looking into this story, Decoder dredged up the aforementioned CIA document, written in 1962. It contains practical advice while providing a look back at an era when deception followed deception and the stakes seemed to be survival of the Western world.
---