What does it mean when the federal government shuts down?
(Read article summary)
With snow continuing to fall on Washington Wednesday evening, it looks likely that most government workers will get a longer 'snowcation.' The longest weather-related shutdown lasted a week in 1996. This one is at 3-1/2 days and counting.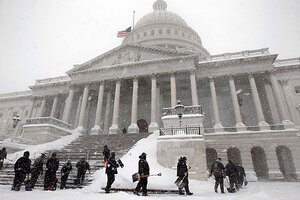 Kevin Lamarque/Reuters
Awe-inspiring winter weather could lead to a record shutdown of the federal government, costing taxpayers upward of half a billion dollars.
So far, a series of storms – snowmaggedon, the snowpocalpyse, snowoverkill, snownotorious big – has closed Washington's federal agencies for 3-1/2 days. With flakes falling fast and furious on Wednesday afternoon, a longer snowcation for the area's 230,000 bureaucrats seemed possible, even likely.
The Office of Personnel Management's director, John Berry, says each day costs about $100 million in lost wages and productivity. That makes the tab $350 million so far, and rising.
[Editor's note: The original version of this story misstated the total number of dollars lost each day of a federal shutdown.]
The longest weather-related shutdown of the government was in 1996 and lasted a week. That mark seems within reach.
"The snow has just been relentless," said D.C. Fire Chief Dennis Rubin. "It doesn't seem like we're getting much of a break."
But here's a question: Does this mean the federal government is falling apart? Will taxes go uncollected, fighter aircraft unpurchased, and Social Security checks unmailed due to the inability of D.C. residents to leave their homes?
Um, not really. For one thing, no government shutdown is total. Officially designated emergency employees have to report for work anyway. So those checks can go rolling along.
"There are no standard definitions or categories in this regard, and agency heads … are free to make such determinations based on the agency's unique mission requirements and/or circumstances," says OPM's manual for Washington-area closures.
---