This Valentine's Day, can Justice Kennedy preside over your wedding?
(Read article summary)
He could, but probably wouldn't (although he attended White House party crashers Tareq and Michaele Salahi's wedding). But he might help you say 'I do' if you're a close personal friend or served as one of his law clerks.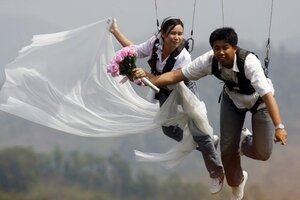 Wason Wanichakorn/AP
Supreme court justices have the power to remake America's laws. Their role is enshrined in the Constitution, and they are appointed for life.
Yes, yes, we know that. But in this, the season of Valentine's Day romance, we have a question concerning a separate power. Can they preside over weddings?
Stories about White House party crashers Tareq and Michaele Salahi have noted that Justice Anthony Kennedy spoke at their 2003 wedding, for instance. He was there as a friend of the family and didn't officiate, but could he have stepped in to steer the ceremony to a successful landing if the clergy running it had become indisposed?
If Justice Kennedy had done that, would the Salahis be extra married – more so than if they had been joined in matrimony by a simple justice of the peace?
"No" is the answer to that last point. But it turns out that Supreme Court justices can marry people, in most states. And they do it, too, more than you might think.
Notably, Justice Clarence Thomas officiated at Rush Limbaugh's third wedding, in 1994, to aerobics instructor Marta Fitzgerald. Justice Ruth Bader Ginsburg did the honors at then-Federal Reserve Board Chairman Alan Greenspan's 1983 marriage to broadcast journalist Andrea Mitchell.
---