Elena Kagan not a judge? Well, at least she went to law school.
(Read article summary)
Critics say Supreme Court nominee Elena Kagan might not be qualified, since she's never been a judge. But historically, most Supreme Court justices never graduated from law school.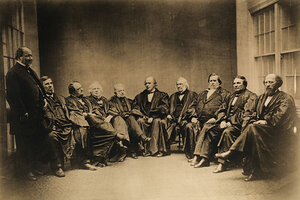 Newscom
Supreme Court nominee Elena Kagan has never been a judge, and some people think that's a problem. "Her record is thin, there's no doubt about that," said Sen. Jeff Sessions (R) of Alabama, ranking minority member on the Senate Judiciary Committee, in a Monday broadcast interview.
Well, at least she graduated from law school. (Harvard Law, 1986, if you want the specifics.) That makes her more credentialed than most of the 111 people who have served as US Supreme Court justices. A majority of them – 64 – never earned a law degree.
Yes, you read that right. More high court judges have not been JDs, than have. They never took first year Contracts. They never struggled with Constitutional Law I, only to be inspired by a curmudgeon of a professor with an eye for talent.
IN PICTURES: Justices with no prior judicial experience
No, they learned law the old fashioned way – on their own.
Let's start from the top – it will be less confusing that way. While 64 Supreme Court justices did not go to law school, all Supreme Court justices in US history have been lawyers. Of a sort.
---