Gary Brooks Faulkner: Was 'American ninja' working for CIA?
(Read article summary)
Gary Brooks Faulkner, the man arrested in the hinterlands of Pakistan who says he was hunting Osama bin Laden, seems to have more in common with Chuck Norris movies than with any US intelligence activity.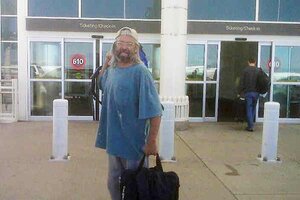 Dr. Scott Faulkner/AP
Gary Brooks Faulkner, the "American ninja" arrested in Pakistan carrying a pistol, sword, dagger, and other military equipment, apparently was trying to hunt down Osama bin Laden. Was he working for the CIA? Or any other secretive arm of the US government?
No, we think not. Well, anything is possible – that selling-arms-to-Iran-to-raise-cash-for-the-contras adventure at first seemed preposterous, too – but the fact is that, according to what has been made public so far, Mr. Faulkner's adventure seems to have more in common with Chuck Norris action movies than with any actual paramilitary activities of US intelligence.
First of all, Faulkner was the spear tip of his own plot. Generally speaking, US intelligence in the past has employed locals or other third parties for its more aggressive clandestine activities. Remember all those plots to assassinate Fidel Castro? The ones that involved, among other things, giving Mr. Castro a poisoned cigar, or luring him to examine an exploding seashell? (No, we're not making those things up.) They envisioned dissident Cubans – or in some cases, the Mafia – as the people who were supposed to carry them out.
---