George Steinbrenner spent big on politics, too
(Read article summary)
George Steinbrenner had a long history of political contributions as well as baseball expenditures. Some of those donations got him in serious legal trouble, but they are most notable for how evenly he supported both Republicans and Democrats.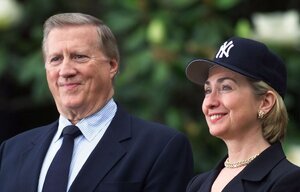 Richard Clement/REUTERS/FILE
George Steinbrenner's sports life was defined by Yankee pinstripes. But in politics Mr. Steinbrenner's uniform was purple.
That's because he spread campaign contributions around. His personal political state, in financial terms, was neither Republican red nor Democratic blue, but a mix.
Like many wealthy political donors, Steinbrenner was motivated by pragmatism, friendship, and business concerns, as well as ideology. His is a case in point: US politics today may be hyperpartisan, but it is often financed by people who aren't.
IN PICTURES: George Steinbrenner through the years
Over the past 20 years, the late Yankees owner steered 44 percent of his donations to Republicans and 44 percent to Democrats, according to the Center for Responsive Politics. The rest went to nonpartisan political committees.
---