Elena Kagan on rare path: first a Supreme Court clerk, later a justice
(Read article summary)
If confirmed, Elena Kagan will become the sixth former Supreme Court law clerk to become a justice later in life. Much of the work behind the scenes in the Supreme Court is done by these brilliant recent graduates.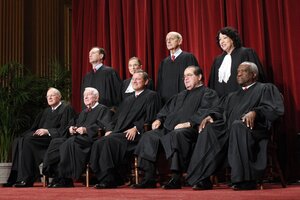 Jim Young/Reuters
Being selected to work as a law clerk for a US Supreme Court justice is one of the highest honors a recent law school graduate can attain.
The justices search for the best and brightest legal minds to staff their chambers from year to year. But, surprisingly, only a handful of these clerks have gone on to serve on the high court themselves.
If, as expected, the Senate votes to confirm Elena Kagan to a seat on the US Supreme Court, she will become only the sixth former Supreme Court law clerk to rise to become a justice. Kagan worked as a clerk for Thurgood Marshall in the 1987-88 term.
IN PICTURES: Supreme Court Justices with no prior judicial experience
The others are Chief Justice John Roberts, who clerked for William Rehnquist in the 1980-81 term; Justice Stephen Breyer, who clerked for Arthur Goldberg in the 1964-65 term; and recently retired John Paul Stevens, who clerked for Wiley Rutledge in the 1947-48 term.
In addition, Rehnquist clerked for Robert Jackson in the 1952-53 term, and Byron White clerked for Frederick Vinson in the 1946-47 term.
---