Donald Trump for president? Some lessons from other tycoons.
(Read article summary)
Donald Trump, having signaled he's at least flirting with a presidential run, might consider how other businessmen fared in their bids.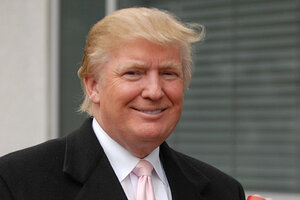 Scott Campbell/AP
Developer/ reality show star/ general celebrity Donald Trump says he might run for president. That's what he told Fox News in early October, anyway.
"For the first time in my life I'm actually thinking about it," said The Donald.
Does this mean he's forgotten his previous flirtations with the Oval Office, such as his 2000 exploration into running on a Reform Party ticket? Not that it really matters – most good politicians have a knack for reinvention. We wish he'd run. A Trump campaign would be great copy.
But the floating of this particular trial balloonlet got us thinking: How many businessmen have run for president without any intervening political experience?
There's Ross Perot, of course. The Texas computer billionaire and his dire warnings about the federal deficit are hard to forget. He was sort of a one-man "tea party" before there were tea parties fulminating about government waste. Mr. Perot's 1992 third-party bid is one of the most successful independent campaigns ever, receiving 19 percent of the popular vote even though at one point he briefly withdrew from the race.
---