JFK trivia: His presidential library houses papers of which famous author?
(Read article summary)
The presidential library began with FDR, and one for George W. Bush broke ground last week. JFK's includes a collection from an American novelist.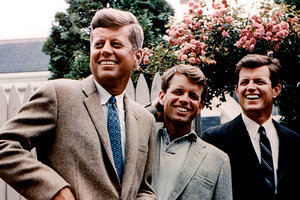 John F. Kennedy Presidential Library/Reuters
EX-President of the United States – it's a pretty good job to have. You get a lifetime pension (equal to what a cabinet officer gets paid). The US pays for your staff (though none of them can earn more than $96,000 a year). You get $1 million a year for travel and security expenses.
Plus, you get a presidential library, a whole academic institution dedicated to the study of you and your times.
George W. Bush broke ground for his on the campus of Southern Methodist University just the other day.
But there's a catch when it comes to that library thing. Uncle Sam doesn't pay to build them. Former Oval Office occupants must raise the money for construction themselves. They also have to set up an endowment equal to about 20 percent of the library's value. Only then will the National Archives accept the facility on behalf of a grateful nation.
That takes a lot of checks.
"I appreciate the 160,000 donors whose generosity has ensured that this building was fully paid for before we broke ground," said Mr. Bush at his recent Dallas library ceremony.
---