NPR and budget scrapes: Public radio has been here before
(Read article summary)
The House is poised to vote to strip NPR of federal funds. Public radio has had a rough six months, but it nearly closed for good in 1983.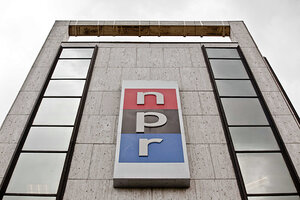 Gingold Nicholas/SIPA/Newscom
House Republicans Thursday aimed to strip NPR of federal funds by voting on legislation that would bar the US from subsidizing a public radio network that conservatives believe is biased against them.
GOP ire at NPR rose last week after a hidden camera sting taped an NPR official making derogatory comments about the tea party agenda and acknowledging that the network might be better off without federal funds. The head of NPR, Vivian Schiller, resigned as a result of the uproar.
Right now federal money, which is channeled through local stations for the most part, makes up about 10 percent of the public radio economy, according to NPR data. Losing that cash could hurt – particularly at rural stations without other ready sources of funds.
RELATED: The Juan Williams treatment: five other ousted media personalities
But would it be the worst financial crisis in public radio's history? Nope, far from it. That occurred not in 2011, but in 1983.
National Public Radio suffered a horrendous financial meltdown in the early Reagan era Overexpansion and lax management combined to produce a deficit that nearly sank the public-radio system a few years after its founding.
For NPR, it was a worse crisis than the one it faces today. Yes, today is bad: In mid-March a hidden-camera sting caught an NPR official saying that NPR would be better off without public funds. But in '83, NPR had to be saved by an infusion of federal cash.
---