White House situation room, 'nerve center' of bin Laden raid, turns 50
(Read article summary)
The White House situation room is now associated with one of President Obama's successes, but it owes its existence to JFK's great blunder.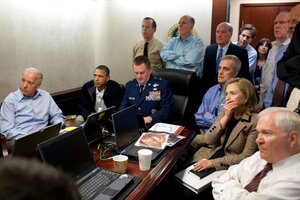 Reuters/White House/Pete Souza/Handout
The picture is already an icon: President Obama and his national security team, gathered around a conference table, rapt as they look at an update of the Osama bin Laden raid as it occurs.
But here's a fun fact about that photo – the room where that team is sitting, the situation room, had an anniversary almost the same day that photo was shot. The famed White House command center is 50 years old Friday.
President Obama marked the anniversary by speaking to situation room staff.
"It's the President's eyes and ears. Providing the latest information and alerts, it's the nerve center for the US government," said Mr. Obama, in a statement.
And it owes its existence to a US operation that was as big a failure as the bin Laden raid was a success: the Bay of Pigs.
The Bay of Pigs invasion of Cuba by a CIA-trained force of Cuban exiles in April 1961 was a flop, to put it mildly. Fidel Castro's armed forces crushed the invaders within three days. It was a coup for him and a disastrous defeat for the US president of three months, John Kennedy.
---