Newt Gingrich and the gaffe: what's in a word?
(Read article summary)
Gaffe, from the French for 'hook,' has been a barb in the side of Newt Gingrich, Barack Obama, and plenty of other politicians.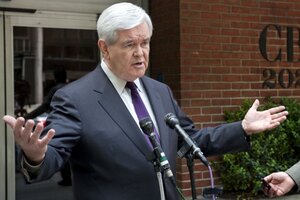 Chris Usher/CBS News Photo/AP Photo
Where did the word "gaffe" come from? We wondered this the other day after watching Newt Gingrich explain yet again why he didn't mean it when he called Rep. Paul Ryan's Medicare proposal "right-wing social engineering."
(Please – no e-mails saying we're picking on poor Mr. Gingrich. We're pretty sure the GOP presidential hopeful himself would say he wishes he hadn't blabbed so much about the Ryan plan in the first place.)
Anyway, our trusty American Heritage Dictionary says "gaffe" comes from an old French word for "hook." The word "gaff," without the "e," is still used in this context: It refers to an iron hook used to land fish.
That leads us to the political definition of "gaffe" by the great wordsmith William Safire.
"To a politician – even one who can 'stand the gaff' or abuse – it's the dread mistake that pierces the psyche like the angler's sharp hook," wrote Mr. Safire in a 2008 New York Times Magazine column.
---