Michele Bachmann is in. Time's a'wasting for undecided to enter 2012 fray.
(Read article summary)
The time is fast approaching when it'll be too late for new GOP White House wannabes to join the 2012 field. Rep. Michele Bachmann is now off the fence, announcing her bid Monday night.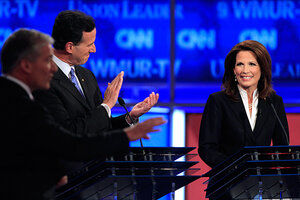 Jim Cole/AP
Michele Bachmann's entry into the field of official presidential contenders raises this question: Is it getting late early out there for Republican White House wannabes?
The field is shaping up. But Sarah Palin, Jon Huntsman, and Rick Perry apparently are still hemming and hawing about whether to run or not. The time may be approaching when they might as well not bother.
When Yogi Berra first said, "it gets late early out there," he was discussing the fact that the shadows in Yankee Stadium's left field crept up long before dusk. Translated to politics, this means the window for a successful candidacy might close long before primaries actually start, as donors, consultants, and voters line up behind other choices. Has that already happened?
If it has, then all those folks who are having a good time hemming and hawing about whether they will grace the field with their presence can just stick to their current line of work. But first, let's take all the nonincumbent major-party nominees since 1960. Next, let's identify the dates they gave their speeches to officially enter the race. Then we'll add up the number of months before the elections actually occurred, and divide by the total number of candidates.
---