Father's Day 2011: How many presidential babies were born at White House?
(Read article summary)
Ahead of Father's Day 2011, President Obama said not to expect another little Obama. In fact, only one US president has welcomed the birth of a child in the White House. But who is he?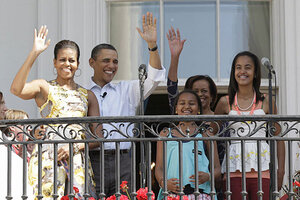 J. Scott Applewhite/AP
President Obama says nobody's going to hear the pitter-patter of little feet in the White House residence while he lives there – unless the feet belong to visitors, that is. The Obamas themselves don't plan to have any more children. That's what America's "first dad" told an ABC interviewer on Friday, anyway. Which leads us to ask this question: Which US president did welcome the birth of a child in the White House?
There's been only one. Hint: An upscale Washington, D.C., neighborhood is named after this particular chief executive. In fact, it's where Malia Obama goes to school.
Hmm. This is tough trivia. You'd guess that this president would have to have been young, like John F. Kennedy or Theodore Roosevelt. Those would be good choices – both had toddlers when they moved into 1600 Pennsylvania Avenue – but neither is the guy.
The key is to focus not on the president but on the spouse. That brings you to the youngest first lady in US history, who was 21 when she assumed the role. Twenty-one! She was serving as America's hostess at an age when many modern presidential kids hadn't yet figured out what to do with their lives.
---