A balanced budget amendment to solve the debt crisis? It's an old story.
(Read article summary)
A proposed amendment to the Constitution requiring a balanced federal budget has been the subject of congressional hearings for 60 years. But the issue is even older than that.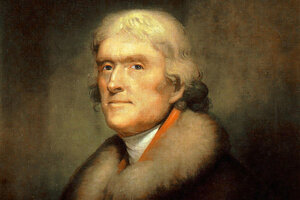 Newscom/File
It's unsurprising that the state of the federal budget is perhaps the longest-running issue in US politics. "Congress, White House in Budget Clash" is a headline that could have run in the time of the tricorn hat.
But what about a constitutional amendment requiring a balanced budget? Is that a new thing or an old idea repurposed for modern times?
You wouldn't be reading about it here if it were not the latter. Tacking a black-ink requirement onto the supreme law of the land is a proposal that has bounced around Washington since Franklin Roosevelt was spending us out of the Great Depression.
Or even earlier, if you consider Thomas Jefferson serious on this issue. In 1798 Jefferson wrote that the only way to rein in the spending of the John Adams administration was an amendment to prohibit the federal government from incurring debt.
Jefferson wrote a lot, though. So it might be fairer to call Sen. Millard Tydings and Rep. Harold Knutson the founding fathers of the modern balanced budget amendment movement.
---