Jackie Kennedy book: glimpses of White House intimacy, and happiness
(Read article summary)
Some of the real gems in the book based on interviews Jackie Kennedy gave deal less with famous people and more with the quirks of domestic life at the White House.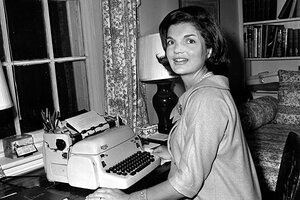 AP/File
During times of stress Jacqueline Kennedy sometimes cheered up her husband the president by performing uncanny impersonations of the people with whom JFK had to deal.
The first lady also found it funny that the bathroom that male guests used in the White House residence was full of rubber floating animals. Jack employed them to amuse his son John during bath time.
Those guests could sometimes be destructive. Congressional leaders who dined with JFK on a regular basis eventually broke all the fine antique chairs Jackie had acquired for the White House Family Dining Room.
News about the new Jackie Kennedy book based on interviews she gave to historian and Kennedy aide Arthur Schlesinger has focused mainly on the famous people she did not like, or did not think JFK liked. She disapproved of Martin Luther King Jr., thought Indira Gandhi "a truly bitter woman," and professed to despise Lyndon Johnson.
---