Rick Perry joins flat tax parade – a hot idea fresh from the 1860s
(Read article summary)
Rick Perry follows Herman Cain in proposing a flat tax. Ron Paul has endorsed the idea before, too. But the hot new idea among GOP presidential candidates is as old as the Civil War.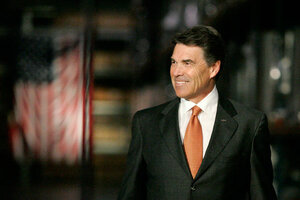 Mary Ann Chastain/Reuters
"Flat tax." It's the hottest phrase in Republican politics since "budget cuts." Presidential candidate Herman Cain includes one as part of his 9-9-9 proposal. Rick Perry put forward his own version Tuesday, which would allow Americans to choose between a 20 percent flat tax and their current income tax rate.
Will also-running Buddy Roemer be next?
But in this case hot does not mean new. The flat tax, as a concept, is as old as American income taxation.
The point of a flat tax is its simplicity and, in the eyes of its proponents, its fairness. In general, it would throw out most of today's complicated tax code, with its deductions and schedules, in favor of a single rate applied to all income.
The first federal income tax, enacted in 1861 to help pay for the Civil War, was a flat 3 percent levy on earnings over $800. The first peacetime income tax, enacted in 1894, was a flat 2 percent on earnings over $4,000.
After the US Supreme Court struck down the income tax, for reasons we won't go into here, Congress and the states approved the 16th Amendment to the Constitution, which made the thing legal and was the beginning of the tax structure we know and ... well, are acquainted with today.
Today's income tax is progressive, meaning higher levels of income are taxed at higher rates. The theory behind this is that it distributes the burden of paying for the nation in proportion to the ability to bear that burden.
---