Super PAC windfalls: How deep pockets are funding the 2012 election
(Read article summary)
A 'super PAC' endorsing Newt Gingrich recently received $5 million to help boost his 2012 election campaign. But the former House speaker isn't the only candidate to benefit from super PAC money.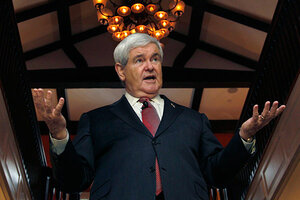 Charles Krupa/AP
Newt Gingrich just got a big financial boost: a $5 million check from casino mogul Sheldon Adelson that's intended to boost the ex-House speaker's campaign.
We'll note here that this cash isn't going to Mr. Gingrich directly, but to an outside organization, a "super PAC," that's endorsing him. And we'll also note that this news reveals one way in which the 2012 presidential campaign is different from previous election cycles: It's a lot easier than it used to be for rich people to shovel bags of cash at their favorite candidates.
Yes, we see you rolling your eyes there in the back, but the fact remains it's true. For a long time it's been difficult for the megabucks crowd to directly use their assets to help the politicians they want to elect. There's a $5,000 limit on the amount a person can donate to a campaign, and the Federal Election Commission watches that pretty closely. Sure, you can force your nephew to match your donation by threatening to write him out of the will, but that just takes a text message. More effort is required to cajole your friends, neighbors, and coworkers to ante up with you – a practice known as "bundling."
But the US Supreme Court decision in the Citizens United case has opened up political treasuries for business. The $5,000 limit remains, but this election cycle is the first with "super political action committees" – a fast, legal, and fun way to spend your kids' inheritance.
---