How Bo and other 'first dogs' contribute to White House Easter Egg Roll
(Read article summary)
Bo dons bunny ears for a White House notice about the White House Easter Egg Roll on Monday. But he's not the first presidential pooch to wear special headgear for the occasion.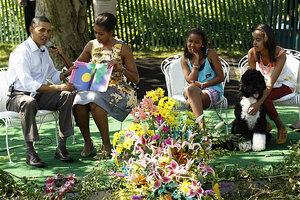 REUTERS/Kevin Lamarque/File
When you're the first dog, indignity comes with the territory. That was our thought when we saw the Obama family's Portuguese water dog, Bo, in a video that advertises the 2012 White House Easter Egg Roll.
Bo is wearing pink bunny ears in the spot. At one point there's a squawk and he pretends to, um, produce an Easter egg. "There will be games," says the closing tag line.
It's cute. But here's our point: Presidential pets are often used as props. Bo is not the first White House dog forced to wear funny headgear for an Easter image.
No, Barney wasn't the first, either. Remember Barney, George W. Bush's Scottish terrier? "Barney Cam" was the pioneering series of videos that mixed White House pets with real administration officials in scripted entertainment. Barney never had to don fake ears. But he did have to suffer a headdress made from roses in the classic 2007 film "My Barney Valentine." The plot had him deliver the flowers to his valentine, consort Miss Beazley.
Then there was King Timahoe, Richard Nixon's Irish setter. "Christmas at the White House," a 1971 CBS News special, showcased Timahoe "romping on the sitting room floor" with his owner, according to a program review. Nixon's chief of staff, H.R. Haldeman, had a different view of this relationship. In his diary he wrote that Timahoe was so nervous around Nixon he wouldn't go near him even when tempted by dog treats.
---