George Zimmerman charged: Will that affect civil rights investigation?
(Read article summary)
News that George Zimmerman was charged with murder won't sway the ongoing federal civil rights investigation, which is looking for evidence that Zimmerman was motivated by racial hatred.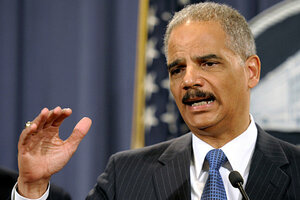 Cliff Owen/AP
How did President Obama find out that George Zimmerman had been charged with second-degree murder in the Trayvon Martin shooting case? Just like an ordinary citizen: He learned it from the media.
That's what White House spokesman Jay Carney said on Thursday, anyway. Obama has not been receiving daily updates on the case, according to Mr. Carney.
"I wasn't with him when he learned about this. I believe he just learned about it from the news," said Carney at a White House briefing, adding that the president's practice is to read newspapers, either in dead-tree format or online.
Carney was mum, however, on a different aspect of the Martin case related to the executive branch: whether the charge filed against Mr. Zimmerman by Florida special prosecutor Angela Corey will make a difference in the Justice Department's own ongoing investigation of the case.
It's more than likely it won't. While the FBI and the Justice Department have been assisting Florida investigators, according to US Attorney General Eric Holder, the main aspect of the Justice probe has been to determine whether a civil rights crime, as defined by federal law, occurred in Sanford, Fla., on Feb. 26.
---