Hilary Rosen vs. Ann Romney: why the dust-up is fake
(Read article summary)
Much of the fighting over 'women's issues' feels like manufactured outrage. In the latest example, Republicans are pouncing on a comment by Democratic strategist Hilary Rosen about Ann Romney.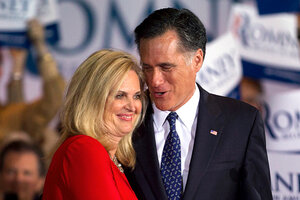 Steven Senne/AP
Can we just say: Enough with the fake "wars" on/about/between women?
First, it was Democrats trying to make it seem as though a serious dispute about whether the government should require insurance plans to cover birth control was actually an argument about birth control in general. When the truth is, the latter debate is settled and will almost certainly never be revisited as a matter of public policy. Even Rick Santorum has made that clear, despite his personal views on the matter.
Now, it's Republicans pretending there's a big national fight over a subject that most women basically agree on – the decision to work or stay home. Democratic strategist Hilary Rosen unintentionally set off this fake firestorm when she commented on CNN Wednesday night that Ann Romney – whom Mitt Romney has been referring to as his top adviser on women's issues – has "never worked a day in her life." Here's the full quote:
"What you have is Mitt Romney running around the country, saying, 'Well, you know, my wife tells me that what women really care about are economic issues, and when I listen to my wife, that's what I'm hearing.' Guess what? His wife has actually never worked a day in her life. She's never really dealt with the kinds of economic issues that a majority of the women in this country are facing, in terms of how do we feed our kids, how do we send them to school, and why do we worry about their future."
---