Ted Nugent: Threat to Obama, or harmless loudmouth?
(Read article summary)
Ted Nugent can expect a call from the Secret Service after saying at the NRA convention over the weekend that he'd be either 'dead or in jail' a year from now if Obama is reelected.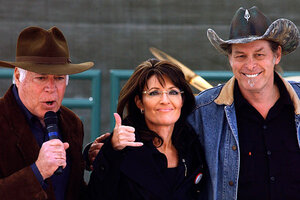 Jon C. Hancock/AP
Rocker Ted Nugent is in trouble for remarks he made over the weekend about President Obama at the National Rifle Association's convention in St. Louis. The Secret Service intends to contact him to ask what he meant when he said in an interview that "if Barack Obama becomes the president in November again, I will either be dead or in jail by this time next year."
It's not legal to threaten the nation's chief executive, which is why the Secret Service is getting involved. Although Nugent's remarks could also be interpreted as a threat to kill himself, if you ask us.
In the same interview the aging Motor City Madman Nugent called the liberal block of the Supreme Court "evil, anti-American people" and said the administration in general is "vile, evil, [and] America-hating."
Is this a problem for presumptive GOP nominee Mitt Romney? After all, Mr. Nugent endorsed Mr. Romney in early March, shortly after the Michigan primary. At the time this earned a thumbs-up from Romney's son Tagg, who said on his Twitter account that "Ted Nugent endorsed my Dad today. Ted Nugent? How cool is that?! He joins Kid Rock as great Detroit musicians on team Mitt!"
---