How Ted Nugent might fend off the Secret Service
(Read article summary)
The Secret Service is set to interview the shocker rocker Thursday about his anti-Obama comments, and whether he meant to threaten the president's life. Let's imagine some points Ted Nugent might make during that session.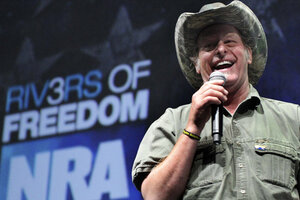 Gene J. Puskar/AP/File
Shock rocker Ted Nugent says he is meeting with the Secret Service Thursday to discuss recent inflammatory political comments, such as his assertion over the weekend that if President Obama is reelected "I will either be dead or in jail by this time next year."
The Secret Service will want to know what Mr. Nugent meant, as it is illegal to threaten the life of the president. Nugent says he is happy to talk with the feds, though he finds the whole thing silly.
"The conclusion will be obvious that I threatened no one," Nugent said Wednesday on Glenn Beck's radio show.
What can the he say in his defense? Nugent's speech has been pretty harsh, after all. (In addition to the aforementioned verbal riff, in recent days he's said the Obama administration is "vile, evil, [and] America-hating." He has called House minority leader Nancy Pelosi a "varmint" and a "sub-human scoundrel." He has tried to rally GOP forces with "we are Braveheart, we need to ride onto that battlefield and chop their heads off in November!")
Well, we think we have a good idea as to how his talk with the Secret Service will go. Here are points Nugent and his heavy metal legal team are likely to make:
---