Ted Nugent meets Secret Service: Was he singled out?
(Read article summary)
Ted Nugent said he met with two 'fine, professional' agents, and the Secret Service called the issue of his remarks about Obama 'resolved.' The meeting, it appears, was nothing out of the ordinary.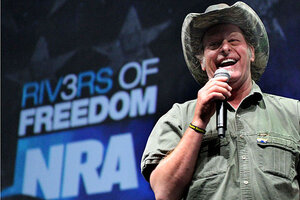 Gene J. Puskar/AP/File
Ted Nugent has met with the Secret Service and there were no explosions of either a literal or metaphorical kind.
The longtime shock rocker met with two "fine, professional" agents in Oklahoma, where he's scheduled for an evening gig, he said in a statement Thursday afternoon. Mr. Nugent did not barricade himself in his dressing room. The Feds did not haul him away in handcuffs.
Instead they all had a nice chat about Nugent's recent harsh statements, such as his assertion at last weekend's National Rifle Association convention that if President Obama is reelected "I will either be dead or in jail by this time next year." The Secret Service apparently came away convinced that Nugent is only a threat to decorum, not the chief executive of the US.
"The issue has been resolved" and the agency "does not anticipate any further action," Secret Service spokesman Brian Leary told the Washington Post.
Given how smoothly this confrontation went, we've been wondering, was Nugent just singled out for Secret Service attention? Or do agents do this every day, interviewing verbal flamethrowers all across America as their first line of US VIP defense?
---