How the sequester could save Democrats in December
(Read article summary)
Congress has an apocalyptic list of issues to deal with after the November elections, including the Bush tax cuts and the sequester. Any chance for compromise could rest on Democrats' willingness to be as ruthless as Republicans have been.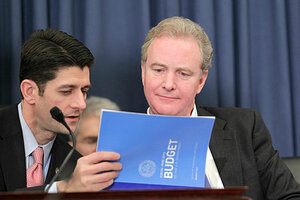 J. Scott Applewhite/AP/File
Whether you call it Taxageddon, the "fiscal cliff," or just a big mess, the list of crucial decisions Congress has been putting off unitl the two months after November's election is imposing.
The potential demise of the Bush tax cuts, the crush of the budget-slashing sequester, the decision whether to extend unemployment benefits and a payroll tax cut, and a looming battle over the national debt ceiling are an apocalyptic passel of issues.
Or, on the bright side, you might call them "action-forcing events."
"I'm not predicting that all of that is going to be resolved during the lame duck session," Rep. Chris Van Hollen (D) of Maryland said at a breakfast for reporters hosted by the Monitor on Tuesday. "What I'm suggesting is in the month after the election, those action-forcing events could help bring the parties together."
From Democrats' perspective, however, "coming together" means the GOP bending on its iron-ribbed resistance to any form of tax increases. And to get there, Congressman Van Hollen and his colleagues may have to take a page out of Republicans' playbook. That is, they may have to act as if they're willing to drive off that fiscal cliff to get what they want – and that's not something they're showing at the moment.
Let us explain.
Van Hollen, the top Democrat on the House Budget Committee, is widely regarded as one of the best strategic thinkers among congressional Democrats. He was the head of the Democratic Congressional Campaign Committee, which coordinates House Democrats' election efforts, for two election cycles. He also is known for his keen grasp of fiscal issues – by virtue of his own wonky predilections and his spot on the budget committee.
---