Are some Ron Paul supporters going rogue?
(Read article summary)
In Nevada's Clark County, Ron Paul supporters are still in the fight, even though their man has said he won't campaign in any more GOP primaries. They scolded the Republican National Committee chief this week.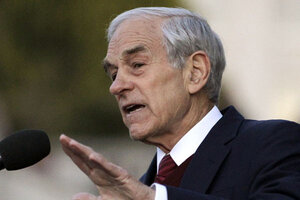 Ben Margot/AP
Are some Ron Paul supporters going rogue and confronting the Republican Party in a manner of which Mr. Paul himself would not approve?
That question arises due to what went down on the evening of May 15 at a meeting of the Clark County GOP in Nevada. At the confab, Paul supporters pushed through a resolution rebuking Republican National Committee chief Reince Priebus and calling on him to resign his post due to his decision to merge some RNC fundraising with that of presumptive presidential nominee Mitt Romney.
The Paul crowd accused Mr. Priebus of violating an RNC rule against aiding one party presidential hopeful while another remains in the race.
"We hope that our Republican colleagues in local and state parties across the nation will join with us in expressing our outrage at having our role in the nomination process usurped by a select few individuals," read the Clark County Republican statement, according to a copy posted on the blog of Nevada political analyst Elizabeth Crum.
Did the Paul supporters in Clark County – which contains Las Vegas and three-quarters of the state's population – not hear that Paul has announced he will no longer campaign in states that have yet to hold primaries?
OK, that's not the same thing as formally ending his campaign, as we ourselves have said. But you can see the campaign's end from there. More to the point, Paul and his campaign staff have been urging his supporters to remain civil as they plan for the GOP national convention in Tampa, Fla., in August.
---