Has the tea party sold out? House freshmen aren't who they seem.
(Read article summary)
A report by the arch-conservative Club for Growth undercuts the notion that freshmen House Republicans are unified – and uniformly committed to the most stringent tea party ideals.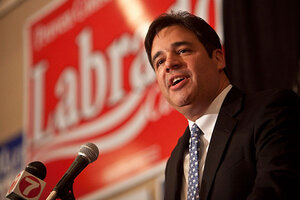 Chris Butler/Idaho Statesman/AP
The Republican freshmen are often lumped together as a uniform horde of Capitol Hill raiders, fiscal barbarians hammering on Washington's gates. They sent the country to the brink of default by refusing to raise the debt ceiling; they throw sand in the gears of any legislative proposal that isn't taking an ax to government spending.
At least that's the conventional wisdom. But the arch-free marketeers at the Club for Growth think it just isn't backed up by the freshman's voting records, according to a study released earlier this week.
"The liberal media likes to pretend that these Republicans have fought for fiscally conservative policies, but the facts don't support their thesis," said Chris Chocola, the president of the Club for Growth.
The survey shows a few interesting things about the House freshmen.
First, the freshmen class is not a rubber stamp for the most conservative proposals.
Only 14 of the 87 freshmen signed a pledge to never raise the debt ceiling unless Congress enacted a conservative-favorite budget plan known as Cut, Cap and Balance. A majority, too, voted against the most conservative House budget proposal, forwarded by Republican Study Committee.
---