Why Americans Elect failed to find a presidential candidate
(Read article summary)
After raising millions of dollars to boost a centrist candidate for president, the nonprofit Americans Elect has given up. But there's more involved than just a nation unready for a third party.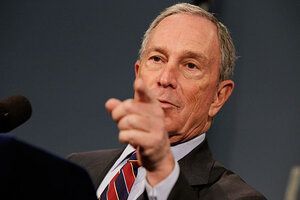 Richard Drew/AP
What if you hold an election and nobody shows up?
That's sort of what happened to the group Americans Elect, a nonprofit launched to place a centrist, nonpartisan presidential candidate on the ballot in all 50 states. On Thursday, the group announced it was giving up. Nobody had come close to meeting the minimal threshold of 10,000 votes to win the Americans Elect primary, held online.
Clearly the United States just isn't ready for a third party, some analysts opined.
"The failure of the effort is notable because of its place in history," wrote Aaron Blake in The Washington Post's Fix blog. "This is, after all, a time of historic unhappiness with Congress, and if there was ever an opening for such an effort, 2012 might have been the year to get it done."
"Instead, it appears the third-party renaissance in American politics will continue to be put off," he concluded.
But maybe it's not that America isn't ready for a third-party presidential candidate. After all, when the right person has come along – someone like Ross Perot in 1992 – he has been able to win a significant chunk of votes and arguably swing the outcome of an election. If Mr. Perot hadn't flaked off in the middle of the campaign, dropping out temporarily, it's possible he could have even won.
The difference with Perot (and Ralph Nader, John Anderson, Theodore Roosevelt, and all the others in the "third party" club) is that the candidate came first, and the money and organization followed. What Americans Elect was trying to do was the reverse – build an organization and handle the tedious task of getting the party on the ballot in all 50 states. It was like the "Field of Dreams" of American politics: Build it and they will come.
---