Mitt Romney's other Vegas meeting: why Sheldon Adelson trumps The Donald
(Read article summary)
The most important meeting for Mitt Romney Tuesday may not be with Donald Trump, but with billionaire Sheldon Adelson, who had previously backed Newt Gingrich.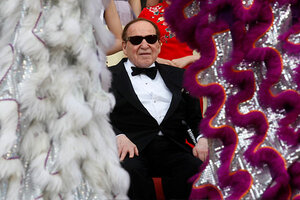 Kin Cheung/AP/File
Much attention has been given to Mitt Romney's fundraiser with Donald Trump Tuesday. But there's another meeting taking place in Las Vegas that could be far more important for the former Massachusetts governor.
We're referring to his private get-together at The Venetian with Sheldon Adelson, the wealthy casino magnate who pretty much single-handedly bankrolled Newt Gingrich's presidential campaign and may now be willing to put some of his considerable resources behind Mr. Romney.
This would be the second high-profile meeting between the two men, who also sat down back in February, when Mr. Adelson first publicly indicated that he would support Romney should he eventually become the nominee (though at that time, Mr. Gingrich was still technically in the race).
Adelson, a Massachusetts native, gave a total of $20 million to the "super political-action committee" supporting Gingrich, and has given another $5.3 million to other conservative candidates and groups, making him the single most generous donor of this campaign cycle. So far, however, there's no indication that he has given anything to Romney, whom he criticized last March as being "like Obama" and not a "bold decisionmaker" like Newt.
If Adelson – who, according to Bloomberg, is the 17th richest person in the world – does get on board as a Romney contributor, it would be a significant capstone on what has been, on the whole, a pretty striking turnaround from Camp Gingrich. After a prolonged primary fight, in which it was clear both sides felt personally bruised, Gingrich has lately emerged as an active – and pretty decent – Romney surrogate.
---