Is Donald Trump secretly supporting President Obama?
(Read article summary)
The day after hosting a fundraiser for Mitt Romney in Las Vegas, Donald Trump resorted to insisting that Barack Obama was born in Kenya. This is not helping Romney.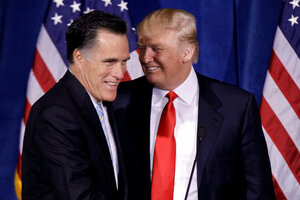 Julie Jacobson/AP/File
Is Donald Trump actually a supporter of President Obama? We ask this question because the real estate mogul/reality show host continues to behave in a manner which does not help, or at least to those of us schooled in linear rationality does not appear to help, Mr. Trump's avowed choice for president, Mitt Romney.
On Wednesday, the day after he hosted a Romney fundraiser in Las Vegas, Trump tripled down on his insistence that Mr. Obama was not born in the United States. As evidence, he continued to cite an old Obama bio from a literary agency that listed the incumbent president as a Kenya native.
"In his own words, @BarackObama 'was born in Kenya, and raised in Indonesia and Hawaii.' This statement was made, in writing, in the 1990s. Why does the press protect him? Is this another Watergate?" wrote Trump on his Twitter feed.
---