Bill Clinton defends Mitt Romney's time at Bain: Does that help Obama?
(Read article summary)
Former President Bill Clinton's praise of MItt Romney's business career seemed to deliberately undercut the Obama campaign's attacks. So why did he do it?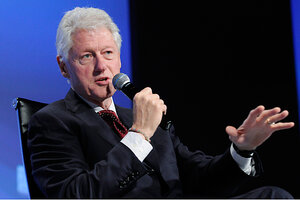 Jonathan Ernst/Reuters
Why did Bill Clinton do it? We're referring, of course, to the former president's comments on CNN Thursday night, when he essentially cut the legs out from under the Obama campaign's attacks on Mitt Romney's record at Bain Capital.
Here's what Mr. Clinton said, vis-a-vis Mr. Romney's career at Bain: "I don't think we ought to get in a position where we say this is bad work. This is good work."
And he went on: "There's no question that in terms of getting up and going to the office and, you know, basically performing the essential functions of the office, a man who's been governor and had a sterling business career crosses the qualification threshold."
Now, we're sure there are all kinds of Machiavellian theories floating around about how Bill may be intentionally sabotaging President Obama in order to set Hillary up for a run in 2016. But we don't actually buy that.
Others suggest the former president simply misspoke. But we don't buy that either.
Here's the thing: Clinton's comments weren't just "off message." They were a declaration of war on the message. They underscore a fundamental split within the Democratic Party that's less about Romney's record at Bain than it is about whether the party as a whole is perceived as a friend or foe of Wall Street and the world of business and high finance.
---