Why are Mitt Romney's favorables rising?
(Read article summary)
A new poll shows that voters are viewing Mitt Romney far more favorably than they did several months ago, despite daily attacks from the Obama camp.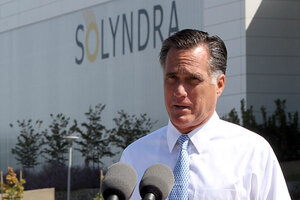 Mary Altaffer/AP
Mitt Romney's reputation with US voters appears to be on the rise. That's the implication of a new CNN poll, anyway, which shows that Mr. Romney's favorable rating has jumped from 34 percent in February to 48 percent today.
Forty two percent of respondents to the CNN/ORC International survey say they have an unfavorable view of the presumptive GOP nominee. And President Obama still leads Romney in this particular rating race – his favorability number is 56 percent.
But voters' views of Romney are becoming more positive at a time when the Obama campaign is doing its best to define him in a negative light. Attacks on Romney's record at Bain Capital filled the political blogosphere there for a few weeks. Now the Obama camp is hitting Romney's record at Massachusetts governor. What's going on? After all, this CNN poll isn't alone – as we pointed out last week, a Gallup survey now has him at a 50 percent favorable rating.
How can Romney's favorable rise in the face of concerted attack?
---