In defeat of Paycheck Fairness Act, Senate goes into deep campaign mode
(Read article summary)
Senate activity surrounding the Paycheck Fairness Act – it failed to get enough votes to overcome a GOP filibuster – more closely resembled the taping of campaign ads rather than a debate of the issue.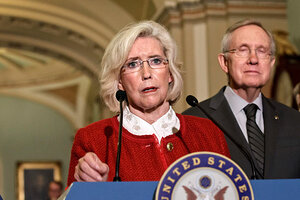 J. Scott Applewhite/AP
With a little dramatic music, the Senate's party-line rejection of the Paycheck Fairness Act on Tuesday could have easily doubled for two dueling campaign ads.
Democrats and Republicans weren't arguing with each other before or after the legislation fell short – with 52 votes for and 47 against, the measure came up short of the 60 votes needed to overcome a GOP filibuster.
Instead, both sides blew right past each other, straight to the TV cameras. Democrats decried another front in what they allege is a Republican "war on women," while Republicans tried to turn the spotlight back to the economy.
On the left, Sen. Barbara Mikulski (D) of Maryland led a phalanx of Democratic women in support of the measure outside of the Senate chamber, ripping the GOP for standing against "equal pay for equal work."
A White House fact sheet on the issue cites US Census statistics as indicating that "on average, full-time working women earned 77 cents to every dollar earned by men for equivalent work."
The Paycheck Fairness Act would offer several additional protections for women in the workplace, including an increased ability to pursue punitive damages for unequal pay claims; prohibit employers from retaliating against employees who inquire about payment practices or who disclose their own salaries; and require businesses to prove that differences in pay between genders were rooted in business requirements.
Republicans say the bill only opens a door to needless litigation.
Democrats even had a campaign commercial standby: the celebrity endorser. Women's rights activist Lily Ledbetter marched from the House to the Senate with a half-dozen House Democrats to give a press conference before the vote. Mrs. Ledbetter's name is affixed to the first piece of legislation signed by President Obama, a law that broadened the ability for employees to sue employers for pay discrimination.
---